Kay is a native of Burlington and a graduate of Walter Williams High School. She also graduated from Peace College and the University of North Carolina at Chapel Hill where she earned a degree in early childhood education. Kay has previously worked in the education field and in mortgage lending. She has worked in law firms assisting with commercial real estate and residential real estate transactions for twenty-two years and has been a North Carolina Certified Paralegal since 2005. Her primary role at Pittman and Steele is assisting with residential real estate closings.
Kay's hobbies include tennis, swimming, reading and flower gardening. She enjoys participating in various activities at St. Mark's Church where she is a member. She spends as many weekends as possible in the mountains with her husband, Lee Pardue, and their dogs. They enjoy hiking in the woods and kayaking on the New River. They have two sons, Josh and Jordan, that are both married and living in Richmond, Virginia and Sydney, Australia, respectively. Kay and her husband hope to travel every couple of years to visit her son and daughter-in-law in Australia.
EXPERT LEGAL COUNSEL FOR BUSINESSES, NON‑PROFITS, AND FAMILIES
At Pittman & Steele, we sit with our clients, not across from them. We listen first, then speak. We work for our clients, not around them. Pittman & Steele takes the long view, investing in relationships and our local community. It's not about parking spaces, dark suits, or thick documents. It's about outcomes that position our clients for success. If your business, non-profit, or family needs expert legal counsel, we welcome the conversation.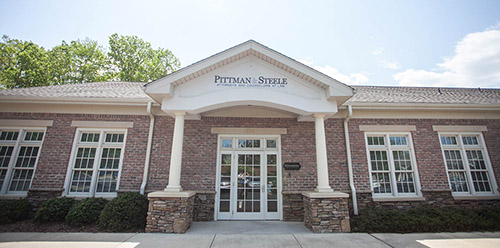 If you would like to start the conversation, please contact us at 336.270.4440
Please note that we cannot represent you nor can we treat unsolicited information as confidential until we know that doing so will not create a conflict of interest. Accordingly, please DO NOT send information about any matter unless you have a written engagement letter from us stating that we represent you as a client.