Primary Practice Areas
• Zoning and Land Use
• Commercial Real Estate
• Business Law
Education
• University of North Carolina School of Law
(J. D. 1994)
• Vanderbilt University
(B.A. in Economics & German, 1990)

Joe is a Board Certified Specialist in Real Property Law.  He represents developers, owners, and lending institutions in connection with commercial real estate projects.  He also appears before planning and zoning boards on behalf of clients having land use issues to assist them in acquiring the necessary permits and approvals for the development of commercial, industrial and retail facilities.  Joe represents lenders and borrowers in governmental financing transactions.
Admissions & Certifications
Admitted in 1994, North Carolina
1997, South Carolina
1994, U.S. District Court, Eastern District of North Carolina
1997, U.S. District Court, Western District of North Carolina
2000, U.S. District Court, Middle District of North Carolina
2009, Massachusetts
2017, U.S. Supreme Court
Board Certified Specialist in Real Property Law – Residential, Business, Commercial and Industrial Transactions (North Carolina, 2003)
Professional Organizations
North Carolina Bar Association (Member, Section on Real Property and Section on Land Use)
Past Member of Real Property Council, Past Chair of Legislative Committee and Former Member, Joint Forms Committee)
North Carolina State Bar Real Property Law Specialization Committee
Representative Work
Assist both business and municipal clients on a wide variety of zoning, planning and land use matters, including eminent domain, zoning changes, subdivisions, conditional use permits, variances, design review applications, and other planning entitlements.
Represent owners, borrowers and lenders in connection with the acquisition, ownership, leasing, management, financing, development, use, transfer, and disposition of business, commercial, industrial and residential real property.
Defend and prosecute real property litigation including matters relating to landlord-tenant issues, including eviction, failure to pay rent and use of property, financing, warranties and disclosures, restrictions on use of land, allegedly fraudulent representations, defects in title and land descriptions, title insurance claims, boundary, easement and right-of-way disputes and partition.
Publications & Presentations
Former Adjunct Professor of Law, University of North Carolina at Chapel Hill School of Law, Advanced Real Property.
"Special Situations and Entities", North Carolina Bar Center, November 13, 2015
"Foreclosure from the Title Examiner's Perspective", North Carolina Bar Center, September 19, 2008
"Conveyances Involving Special Situations and Entities", North Carolina Bar Center, November 9, 2006
Community Involvement
Commissioner, North Carolina General Statutes Commission (2022-present)
Former Member City of Burlington UDO Advisory Committee
Former Board Member, Burlington Downtown Corporation
Former Member, City of Burlington Historical Commission
Former President, Family Abuse Services of Alamance County
Personal
Born in Flint, Michigan
Raised in Chapel Hill, North Carolina
Speaks German
EXPERT LEGAL COUNSEL FOR BUSINESSES, NON‑PROFITS, AND FAMILIES
At Pittman & Steele, we sit with our clients, not across from them. We listen first, then speak. We work for our clients, not around them. Pittman & Steele takes the long view, investing in relationships and our local community. It's not about parking spaces, dark suits, or thick documents. It's about outcomes that position our clients for success. If your business, non-profit, or family needs expert legal counsel, we welcome the conversation.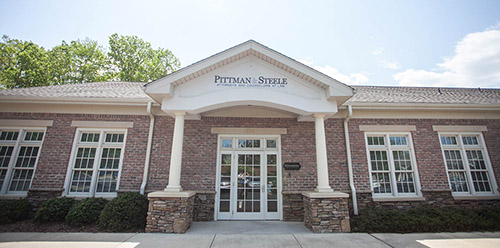 If you would like to start the conversation, please contact us at 336.270.4440
Please note that we cannot represent you nor can we treat unsolicited information as confidential until we know that doing so will not create a conflict of interest. Accordingly, please DO NOT send information about any matter unless you have a written engagement letter from us stating that we represent you as a client.