We provide advice and representation with respect to the formation, operation and dissolution of various types of business entities, such as corporations, limited liability companies, partnerships and nonprofit corporations. Our attorneys assist clients in evaluating and implementing contracts, financing alternatives, capitalization alternatives and options for acquiring and disposing of business enterprises.
We represent buyers, sellers, landlords, tenants, developers, investors, users and lenders in connection with all types of commercial real estate transactions.
Our Attorneys are eager to assist Investors, real estate agents, Lenders, and individual clients through the process of a home purchase or sale, refinance, or family transfers. We work closely with all parties to ensure the transaction is completed with proper communication. All legal issues are fully discussed with clients to ensure our clients are fully informed. All decisions with regard to title and legal issues are jointly made with our clients in a non-confrontational environment.
Our attorneys prepare, review and advise our clients regarding: Wills, Revocable Trusts, Irrevocable Trusts, Powers of Attorney and Advance Directives.
We provide advice and counsel to fiduciaries, such as Executors, Trustees and Guardians, with respect to the fulfillment of their fiduciary duties.
We represent clients in divorce, spousal support and child custody actions. We also draft premarital agreements and separation agreements.
EXPERT LEGAL COUNSEL FOR BUSINESSES, NON‑PROFITS, AND FAMILIES
At Pittman & Steele, we sit with our clients, not across from them. We listen first, then speak. We work for our clients, not around them. Pittman & Steele takes the long view, investing in relationships and our local community. It's not about parking spaces, dark suits, or thick documents. It's about outcomes that position our clients for success. If your business, non-profit, or family needs expert legal counsel, we welcome the conversation.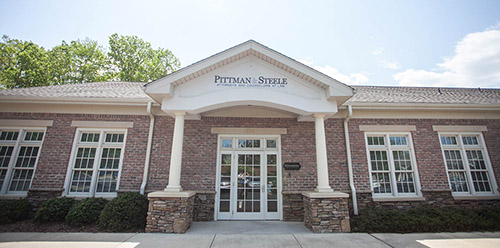 If you would like to start the conversation, please contact us at 336.270.4440
Please note that we cannot represent you nor can we treat unsolicited information as confidential until we know that doing so will not create a conflict of interest. Accordingly, please DO NOT send information about any matter unless you have a written engagement letter from us stating that we represent you as a client.