At Pittman & Steele, we represent clients in a variety of areas of civil litigation, including contract, shareholder, estate and trust, real estate, workers' compensation and personal injury matters.
A core part of our business is the representation of businesses and their owners whether it be disputes among the owners or with their suppliers or customers.
Whether you are an owner, developer, general contractor, subcontractor or supplier our attorneys have experience handling construction or design defects, mechanic's liens and bond law claims, contractual, indemnity and warranty disputes and claims involving personal injury and property damage.
We handle complex estate and trust disputes for a broad range of clients. We have experience representing the interests of beneficiaries and heirs, as well as the interests of executors, personal representatives, trustees and other fiduciaries in all aspects, including will caveats, claims of fraud, misappropriation, self-dealing, duress and undue influence, breach of fiduciary duties.
Our attorneys regularly represent clients in a real estate related litigation including commercial lease disputes, property disputes, contractual disputes involving purchase and sale agreements and related collection claims. We represent commercial landlords when it is necessary to evict a defaulting tenant and initiate lawsuits to seek the appropriate damages under the law.
If you are injured at work, our attorneys can handle your workers' compensation claim from filing your claim to hearing with the North Carolina Industrial Commission. Do not speak to the insurance company about your claim without first speaking to one of our qualified attorneys. Workers' compensation is complicated and whether you have suffered an injury by accident or an occupational disease, if you were hurt at work, you need an attorney to protect your rights.
If you have suffered a serious injury due to the fault of another person, you need to speak to one of our attorneys. Insurance companies will do everything they can to avoid paying a claim or pay as little as possible. You need an attorney with experience evaluating claims and presenting your strongest case to the insurance company or to the jury so you can maximize your recovery. We can help you with your liability, uninsured and underinsured claims.
EXPERT LEGAL COUNSEL FOR BUSINESSES, NON‑PROFITS, AND FAMILIES
At Pittman & Steele, we sit with our clients, not across from them. We listen first, then speak. We work for our clients, not around them. Pittman & Steele takes the long view, investing in relationships and our local community. It's not about parking spaces, dark suits, or thick documents. It's about outcomes that position our clients for success. If your business, non-profit, or family needs expert legal counsel, we welcome the conversation.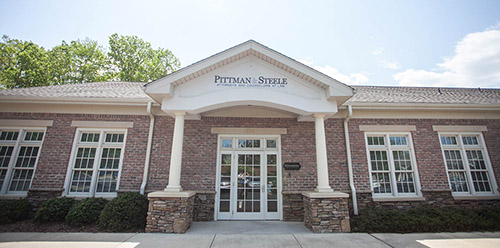 If you would like to start the conversation, please contact us at 336.270.4440
Please note that we cannot represent you nor can we treat unsolicited information as confidential until we know that doing so will not create a conflict of interest. Accordingly, please DO NOT send information about any matter unless you have a written engagement letter from us stating that we represent you as a client.