Our attorneys regularly assist clients in the formation of business entities such as limited liability companies and corporations. In this context we counsel clients regarding the tax and other implications of the types of entities available, and work closely with clients' other advisors to select the structure that will provide the greatest benefit as the business grows and evolves. In addition to the formation of business entities, we assist existing business entities with a broad range of legal matters such as the financing of operations, employment matters, and drafting and reviewing contracts and agreements with vendors, suppliers and customers.
Below is a brief list of business law services that we provide for our clients:
Assisting in the structure and formation of corporations, limited liability companies and partnerships, including tax impact considerations
Drafting, negotiating and interpreting commercial contracts including:

Distribution Agreements
Licenses
Leases
Shareholder Agreements
Joint Venture Agreements
Partnership Agreements
Limited Liability Company Operating Agreements

Preparation and review of Employment Contracts, Confidentiality Agreements, Non-Competition Agreements and Non-Solicitation Agreements
Assisting businesses in the development of incentive plans for their key employees (cash as well as equity based plans such as stock options and "phantom stock plans") and deferred compensation plans
Advising business clients in their daily operations
Assisting in the maintenance of corporate minutes
Assisting in the acquisition and disposition of businesses and their assets including negotiating, drafting and implementing stock purchases and sales, asset purchases and sales and mergers
Assisting clients with lending transactions
Private offerings of securities
Transactional tax advice (structuring transactions to minimize adverse tax effects)
Formation of Domestic International Sales Corporations ("IC-DISCs")
Formation of, and consultation and advice to, nonprofit organizations
Shareholder and LLC Member disputes
Business succession and exit planning
EXPERT LEGAL COUNSEL FOR BUSINESSES, NON‑PROFITS, AND FAMILIES
At Pittman & Steele, we sit with our clients, not across from them. We listen first, then speak. We work for our clients, not around them. Pittman & Steele takes the long view, investing in relationships and our local community. It's not about parking spaces, dark suits, or thick documents. It's about outcomes that position our clients for success. If your business, non-profit, or family needs expert legal counsel, we welcome the conversation.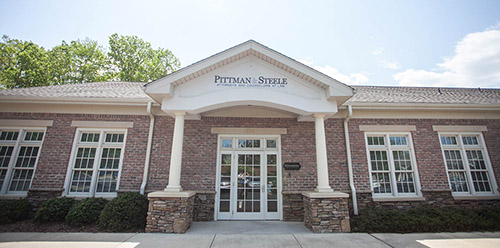 If you would like to start the conversation, please contact us at 336.270.4440
Please note that we cannot represent you nor can we treat unsolicited information as confidential until we know that doing so will not create a conflict of interest. Accordingly, please DO NOT send information about any matter unless you have a written engagement letter from us stating that we represent you as a client.