Our attorneys have experience preparing and reviewing a variety of estate planning documents including Wills, Revocable Trusts and Irrevocable Trusts, Powers of Attorney and Advance Directives, such as Health Care Powers of Attorney and Living Wills.  Our goal, with each client, is to provide thoughtful, practical advice to help the client achieve his or her objectives while minimizing costs and other administrative burdens.  Our estate planning practice often includes planning for the possibility of future creditor claims as well as planning for children and other beneficiaries with special needs.  Whether you require a complicated estate plan incorporating a variety of tax-planning strategies, or only a simple Will, we welcome the opportunity to assist you.
Below are examples of other estate planning techniques we help our clients establish and administer:
Grantor Retained Annuity Trusts ("GRATs") and other "grantor trusts" or "intentionally defective trusts"
Life insurance trusts
Qualified Personal Residence Trusts ("QPRTs")
Charitable Remainder Trusts ("CRTs") and Charitable Lead Trusts ("CLTs")
Non-profit foundations
In addition to assisting in planning for the disposition of your estate, our firm routinely assists fiduciaries, such as Executors, Administrators and Trustees, in fulfilling their duties with respect to the administration of estates and trusts.  Whether a fiduciary requires assistance in preparing and filing documents with appropriate Court officials, communicating with beneficiaries or resolving complicated interpretation and administration issues, our attorneys stand ready to help.
EXPERT LEGAL COUNSEL FOR BUSINESSES, NON‑PROFITS, AND FAMILIES
At Pittman & Steele, we sit with our clients, not across from them. We listen first, then speak. We work for our clients, not around them. Pittman & Steele takes the long view, investing in relationships and our local community. It's not about parking spaces, dark suits, or thick documents. It's about outcomes that position our clients for success. If your business, non-profit, or family needs expert legal counsel, we welcome the conversation.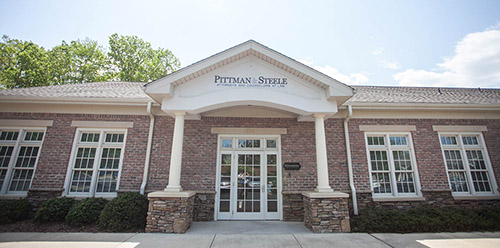 If you would like to start the conversation, please contact us at 336.270.4440
Please note that we cannot represent you nor can we treat unsolicited information as confidential until we know that doing so will not create a conflict of interest. Accordingly, please DO NOT send information about any matter unless you have a written engagement letter from us stating that we represent you as a client.