Estate and Trust Administration
Our Estate and Trust Administration Team consists of attorneys and paralegals who have handled simple to the most complex estate and trust administration matters; from the normal probate process to complex litigation contesting or defending a Will. We strive to make the process understandable and streamlined during this stressful time. Our experienced professionals will gladly assist you in finding the most expeditious and cost effective manner in which to handle the administration of your loved one's estate. While we have experience in tax matters, we work closely with your CPA who will prepare the appropriate estate and income tax returns. If you have been appointed Executor or Executrix of a decedent's estate or Trustee of a trust, we would be pleased to help you.
Guardianships
In addition to representing fiduciaries of estates and trusts, we also serve individuals who seek to be, or have already been, appointed as guardian of the estate of a minor or an incompetent person. From assisting in preparing the paperwork to be appointed guardian to preparing required accountings and advising guardians regarding the proper maintenance and handling of a ward's property, our staff can assist you in this often-unfamiliar process.
EXPERT LEGAL COUNSEL FOR BUSINESSES, NON‑PROFITS, AND FAMILIES
At Pittman & Steele, we sit with our clients, not across from them. We listen first, then speak. We work for our clients, not around them. Pittman & Steele takes the long view, investing in relationships and our local community. It's not about parking spaces, dark suits, or thick documents. It's about outcomes that position our clients for success. If your business, non-profit, or family needs expert legal counsel, we welcome the conversation.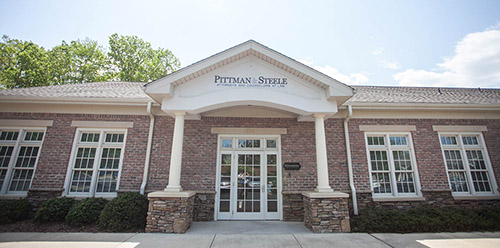 If you would like to start the conversation, please contact us at 336.270.4440
Please note that we cannot represent you nor can we treat unsolicited information as confidential until we know that doing so will not create a conflict of interest. Accordingly, please DO NOT send information about any matter unless you have a written engagement letter from us stating that we represent you as a client.