We represent buyers, sellers, landlords, tenants, developers, investors, users and lenders in connection with all types of commercial real estate transactions.
Acquisition and Development
We work with developers in all aspects of real estate development, including the negotiation and drafting of contracts, due-diligence, property acquisition, and all land-use and zoning, survey, environmental, easement and title issues. Developers can rely upon us to assist in all phases and types of development, including shopping centers and retail development, industrial and office parks and buildings, single-family residential developments and communities, medical office, mixed use and condominiums and many other types of real estate projects. With real estate attorneys licensed in both North Carolina and South Carolina we are able to provide service to clients relative to property located in those states.
Zoning and Entitlements
We understand that land use, zoning and entitlements issues are a critical component of many development projects and work with state and local agencies and municipalities in obtaining the required land use approvals. We regularly advise clients about the land use considerations related to both developed and undeveloped properties, and frequently appear before local legislative and quasi-judicial bodies including planning boards, historic commissions and boards of adjustment for re-zonings, special and conditional use permits, ordinance amendments and appeals from regulatory decisions.
Finance and Loan Transactions
We have significant experience representing both lenders and borrowers in deals of all sizes secured by real estate assets. Our clients include lenders, developers, and operating companies who have real estate as a significant portion of their assets. With real estate attorneys licensed in North Carolina and South Carolina we are able to provide service to clients relative to property located in those states.
Leasing
Commercial leasing is a complex arena. Our goal is to provide you with proven, practical counsel, tailored to your precise needs – whether you are a large national or regional landlord or a business owner searching for new or expansion space. We are available to assist with structuring, drafting and negotiating leases on your behalf. We have depth of experience in all areas of leasing- from long term ground leases, to build-to-suits, to retail shopping center leasing, to handling leasing for office and industrial parks, we have the expertise and experience to assist you.
Expert Witness Representation
We have two real estate attorneys who are certified as real estate specialists by the North Carolina State Bar's Board of Legal Specialization.  One regularly serves as an expert witness in disputes and litigation involving real estate. If you are involved in a dispute or litigation where expert knowledge and testimony regarding real estate law would be necessary or useful, we would be happy to assist you.
Foreclosure
We represent lenders and borrowers in both residential and commercial real estate foreclosures. Although the process may be fairly similar, there are important differences in the statutory requirements to properly foreclose deeds of trust in various contexts. It is important to conduct a comprehensive review of the loan documents and any modifications to them as well as to carefully consider the state of title to the real estate in question. Our attorneys routinely handle both uncontested and contested matters in an ethical and efficient manner.
Landlord-Tenant Disputes
We work with landlords, property managers and tenants in handling lease disputes, collections, mediations, claims and suits for damages and actions for summary ejectment/eviction. We are solutions-oriented and will use our deep expertise to obtain the best outcome for you and your circumstances.
Condemnation and Eminent Domain
We regularly represents landowners and other parties who become involved in condemnation and eminent domain actions. Where appropriate, we can assist by challenging the condemnation, or by ensuring that you receive "just compensation" for your property. Please contact one of our real estate attorneys to discuss your rights and options if your property is or may become subject to a condemnation action.
EXPERT LEGAL COUNSEL FOR BUSINESSES, NON‑PROFITS, AND FAMILIES
At Pittman & Steele, we sit with our clients, not across from them. We listen first, then speak. We work for our clients, not around them. Pittman & Steele takes the long view, investing in relationships and our local community. It's not about parking spaces, dark suits, or thick documents. It's about outcomes that position our clients for success. If your business, non-profit, or family needs expert legal counsel, we welcome the conversation.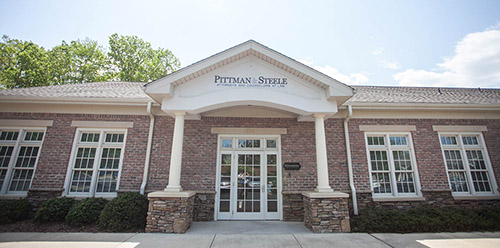 If you would like to start the conversation, please contact us at 336.270.4440
Please note that we cannot represent you nor can we treat unsolicited information as confidential until we know that doing so will not create a conflict of interest. Accordingly, please DO NOT send information about any matter unless you have a written engagement letter from us stating that we represent you as a client.
Why Use A North Carolina Attorney to Handle Your Real Estate Closings and Settlements?
Attorneys in North Carolina are the primary protector of property owners on their path to the closing table, at the closing table, and after the closing table. Ethically bound to put their clients' best interest before their own, North Carolina attorneys provide multiple services in the closing process including settlement agent, title examiner, document drafter, negotiator, advocate, and legal advisor. Attorneys are the only party in a real estate transaction that can explain the legal consequences of a purchase and mortgage and advise the property owner about loan documents, restrictive covenants, surveys, easements, encroachments, and other pitfalls.
More Information:
Brochure: NC Closing Attorney (RELANC)
Link: Real Estate Lawyers Association of North Carolina (RELANC)