Myra is a native of Burlington, North Carolina, and began her legal career in 1983, joining Pittman Steele in 2014. She is a graduate of Williams High School and is a North Carolina Certified Paralegal. With more than three decades of legal experience, Myra has mastered the skill for serving clients and seeing them through difficult times. She enjoys assisting lawyers, preparing for trial, interviewing witnesses, gathering exhibits, document management and most importantly assisting clients. In addition to her experience in litigation matters, she has experience in areas of Family Law; Judgments and Liens; Personal Injury; Summary Ejectment and Evictions; Deed Preparation and Estate Planning.
Outside of work, Myra enjoys time with her family and friends, shopping, quilting and spending time on her family's cattle farm with her grandchildren.
EXPERT LEGAL COUNSEL FOR BUSINESSES, NON‑PROFITS, AND FAMILIES
At Pittman & Steele, we sit with our clients, not across from them. We listen first, then speak. We work for our clients, not around them. Pittman & Steele takes the long view, investing in relationships and our local community. It's not about parking spaces, dark suits, or thick documents. It's about outcomes that position our clients for success. If your business, non-profit, or family needs expert legal counsel, we welcome the conversation.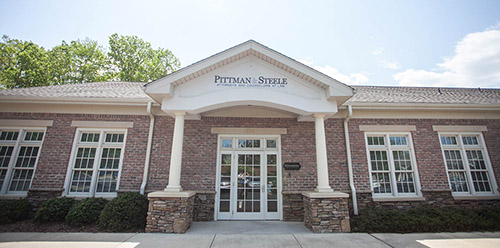 If you would like to start the conversation, please contact us at 336.270.4440
Please note that we cannot represent you nor can we treat unsolicited information as confidential until we know that doing so will not create a conflict of interest. Accordingly, please DO NOT send information about any matter unless you have a written engagement letter from us stating that we represent you as a client.