Tammye Stallings Wilson is an Alamance County native. Tammye has 35 years' experience in the health industry with 30 of those years in the field of ophthalmology and most recently working on clinical trials for oncology and cardiovascular disease. Tammye is primarily the administrative assistant for Tom Steele but also performs various other roles within the office. Tammye is happy to be back with Pittman & Steele where she previously worked as the front desk receptionist part time. Tammye is married to Doug Wilson and has one daughter, Lillie Margaret. When not at work she enjoys traveling, reading, and baking.
EXPERT LEGAL COUNSEL FOR BUSINESSES, NON‑PROFITS, AND FAMILIES
At Pittman & Steele, we sit with our clients, not across from them. We listen first, then speak. We work for our clients, not around them. Pittman & Steele takes the long view, investing in relationships and our local community. It's not about parking spaces, dark suits, or thick documents. It's about outcomes that position our clients for success. If your business, non-profit, or family needs expert legal counsel, we welcome the conversation.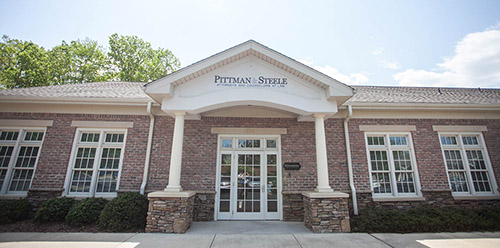 If you would like to start the conversation, please contact us at 336.270.4440
Please note that we cannot represent you nor can we treat unsolicited information as confidential until we know that doing so will not create a conflict of interest. Accordingly, please DO NOT send information about any matter unless you have a written engagement letter from us stating that we represent you as a client.