Tina joined the team at Pittman and Steele in December of 2021. She brings over 26 years of experience as a real estate paralegal having worked for a Greensboro attorney until his retirement. Tina continues to work closely with Buyers, Sellers, Agents, and Lenders to help ensure a smooth closing transaction.
Tina's legal career started in 1985 with the Guilford County Clerk of Court's Office as a Courtroom Clerk in Juvenile Court and then as an Assistant Clerk in Special Proceedings as Hearing Officer over foreclosure and involuntary commitment hearings.
Tina is a native of Guilford County and attended Southeast Guilford High School and Guilford Technical Community College. Outside of work, Tina enjoys spending time with family and friends, shopping, and anything to do with the outdoors.
EXPERT LEGAL COUNSEL FOR BUSINESSES, NON‑PROFITS, AND FAMILIES
At Pittman & Steele, we sit with our clients, not across from them. We listen first, then speak. We work for our clients, not around them. Pittman & Steele takes the long view, investing in relationships and our local community. It's not about parking spaces, dark suits, or thick documents. It's about outcomes that position our clients for success. If your business, non-profit, or family needs expert legal counsel, we welcome the conversation.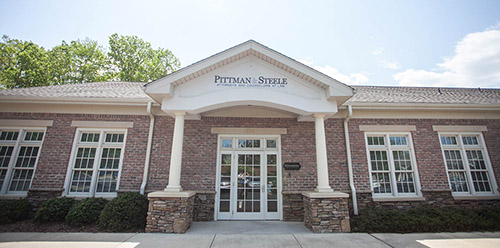 If you would like to start the conversation, please contact us at 336.270.4440
Please note that we cannot represent you nor can we treat unsolicited information as confidential until we know that doing so will not create a conflict of interest. Accordingly, please DO NOT send information about any matter unless you have a written engagement letter from us stating that we represent you as a client.